Preventive Dentistry: The Care that Everyone Needs
Preventive dentistry is a combination of regular dental check-ups and good daily routines like brushing and flossing. It is essential to teach proper dental care to children as well since caring for teeth begins right from childhood and continues for a lifetime.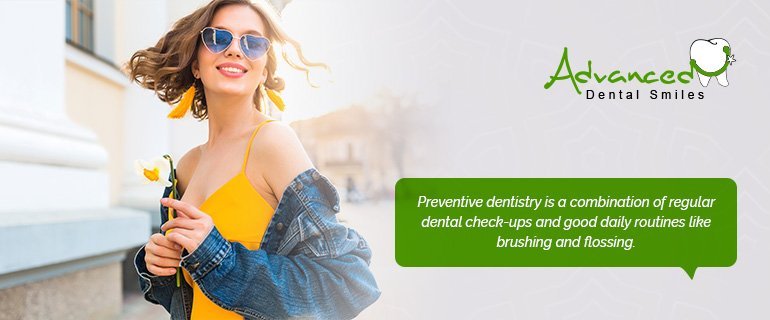 Services Provided by Preventive Dentistry
The services and procedures included in preventive dentistry help a person in reducing the probability of contracting various dental issues. Preventive Dentistry focuses on the prevention of tooth decay, gum disease, build-up of tartar and plaque. Let us look at some of the services and procedures which fall under the Preventive Dentistry category:
• Hygiene and Cleaning: Cleaning your teeth twice a day and brushing with fluoride toothpaste preferably, results in good oral health. A Professional Dental Cleaning helps you to remove the food particles stuck in between your teeth. This is in addition to the daily regime of brushing teeth and using dental floss on a daily basis to prevent dental plaque from coating the tooth surface.
• Dental Sealants: This is a dental treatment that prevents tooth decay. Dental Sealants are a thin coating that will be applied over the chewing surfaces of the back teeth(molars) to prevent cavities. Dental sealants are durable and a viable solution to prevent cavities.
• Fluoride Treatment: Fluoride Treatment helps in improving health and reduces the probability of cavities. This is a treatment performed by a professional dentist who treats by applying highly concentrated fluoride to the teeth.
• Oral Cancer Screening: In this treatment, the dentist checks the entire oral health of the patient including the tongue, inner cheeks, gums, teeth and the roof of the mouth. The dentist also checks your neck and throat for any kinds of lumps.
• Periodontal Maintenance: This is an essential treatment that should be carried out once the Periodontal treatment has been completed. Periodontal maintenance should be done four times a year or as suggested by your dentist.
Benefits
• Regular checkups with the dentist help in decreasing the risk of tooth decay, gum disease, many more serious dental problems.
• Preventive dentistry generally is a treatment where you can diagnose the problems at the basic level which further minimizes treatment and cost.
• Poor oral health results in the development of certain other diseases as well. Hence it is essential to visit your dentist regularly.
Our team at Advanced Dental Smiles can help you learn and understand more about how to get or maintain a healthy mouth and gums to make sure you avoid getting gum disease. Call us today on +1 215-672-9444