Do not let metal braces get in way of you and your beautiful smile!
If you have teeth that extend far beyond your other teeth, or if your teeth are gapped and overcrowded, we would recommend that you get Invisalign®. Invisalign® straightens your teeth without the need for traditional metal braces and wires.
If you or your teen are uncomfortable with the traditional metal braces, Invisalign® is the right choice for you. Want to know more?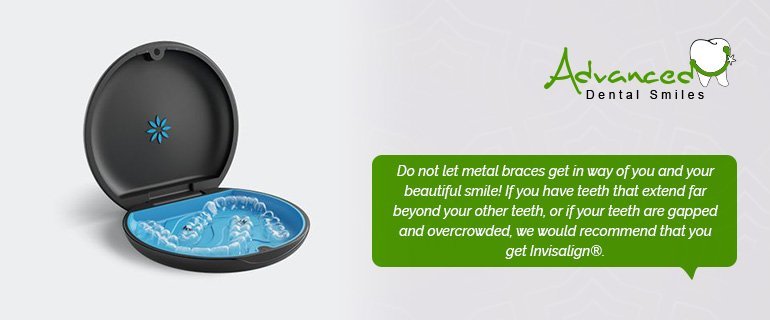 Here are some super cool advantages of Invisalign®:
· Invisalign is nearly invisible: Invisalign clear aligners are custom made to fit the shape and size of your teeth and gums.
· Invisalign also fixes alignment and bite issues: Any alignment problems like crooked teeth, crowded teeth, gapped teeth, open bite, overbite, underbite and crossbite are fixed by Invisalign.
· Invisalign is gentle on your mouth: The aligner trays are made with flexible and clear plastic, which is soft on the gums and mouth tissue. It is recommended that these trays be worn for 20-22 hours a day for best results.
· Invisalign Teen® reminds you to change your trays: Teenagers seldom remember their dental appointments which is why Invisalign Teen was designed with an innovative feature. It is a compliance dot that turns blue after two weeks indicating that it is time to visit your dentist to change the aligner trays. Cool, isn't it?
To get the most from Invisalign®, we also recommend you to adhere to simple rules. It is required that you remove your aligners while eating or drinking. Drink water only when the aligners are in place. It is essential to clean the aligners regularly. For the best outcomes, it is essential to change your aligners periodically as suggested by your doctor.
In short, Invisalign® is one of the most sought-after dental treatments available today. Book an appointment today by visiting https://www.advanceddentalsmiles.com/book-an-appointment/, or call us on (215)-672-9444. You can also reach us on [email protected]