Chipped, decayed and broken teeth –Tips from the Best Dentist in Warminster
Tooth enamel is one of the strongest substances in humans. However, any kind of damage such as excessive wear and tear or a forceful blow would result in Chipped or Broken teeth. Let us look into some of the common causes for chipped and broken teeth.
· Cavities: Tooth decay and cavities weaken the enamel and eventually lead to a chipped tooth
· Teeth Grinding: Excessive teeth grinding is called bruxism and leads to stress on the tooth surface and breaks down the enamel.
· Injuries and Blows: Injuries and Blows on your face from accidents or sports can also lead to chipped and broken teeth.
· Poor Hygiene: Poor oral hygiene, excessive intake of acid producing foods, sugars, etc. also cause chipped and broken teeth.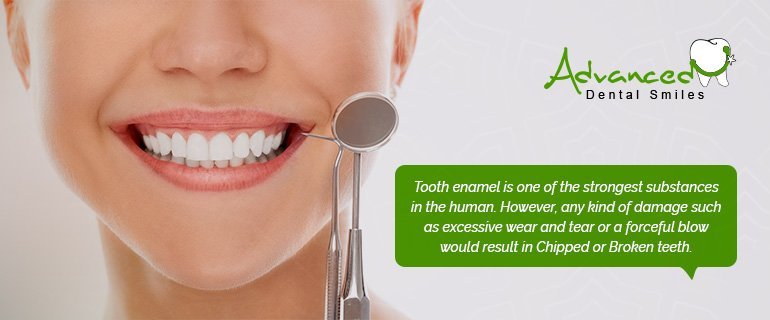 Dental Procedures for chipped, broken and decayed teeth
Full-mouth rehabilitation
Full-mouth rehabilitation is a phased treatment plan that helps you set a goal for oral fitness and targeted regions to restore over time. Generally, we can treat this case by taking digital X-rays, using intraoral cameras, and pinpointing decay.
Tooth reattachment
In case your tooth broke off and you have a fragment of the tooth, the dentist can replant your tooth and hold it in place. While you wait for your emergency appointment, it is essential that you preserve the tooth fragment in a glass of milk to keep it moist. You can also tuck it in your gum, but make sure not to swallow it.
Bonding
Dental Bonding is a procedure in which layers of porcelain or resin are cemented to the surface of the tooth to gain shape and are then hardened by UV rays. The reshaping would continue till the material fits your tooth exactly.
Porcelain veneer
Veneers can be bonded to the damaged tooth and are designed after taking impressions of the teeth. A dental lab crafts the customized veneer and is bonded to the damaged tooth/teeth.
Have a dental emergency in Warminster? Talk to our team on (215)-672-9444 for an Emergency appointment now!