4 Tips for Healthy Summer Smiles from Philadelphia's Best Dentist
Summer is here! This is a great time to get make significant changes to the daily routine of your whole family. Help your kids develop their oral health care routine to keep their smiles bright throughout the whole year! Here are some quick tips from Dr. Dilip Dudhat!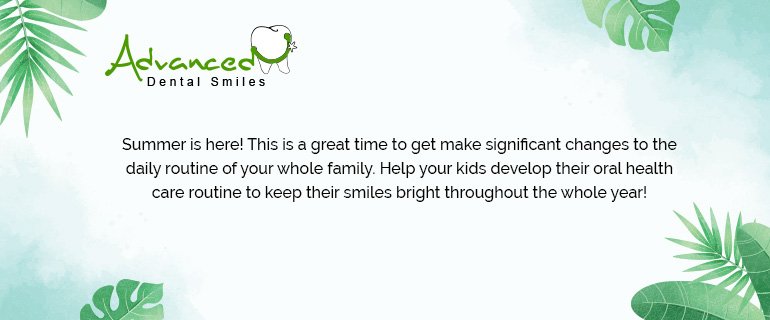 Help develop a routine
This is the best part of the year to teach kids about oral health care. Maintain a routine with the help of a fun chart that includes rewards for brushing and flossing every day!
Get rid of junk food
This is the time of the year where families often head out to the park or to the beach. Any outing involves a lot of snacks such as chips, crackers, cookies and cakes. Needless to say, though these are the best options for an outing, they also house a lot of added sugars. Kids and adults love to munch on these snacks but they eventually lead to tooth decay and cavities.
Instead of junk food, opt for a healthier choice of fruits and nuts. Remember to pack apples, cheese cubes, nuts and other fruits for a bite on the go!
Limit your beverages
Beverages such as sodas, juices and sports drinks also have an excessive number of sugars in them. Though these keep us energized throughout the day, they are definitely not a good option as the high sugars in these beverages stick to the teeth all day and damage the enamel.
The best way to stay hydrated and replenish fluids on a sunny day or any other day is water.
Serve the sugary drinks in moderation and on special occasions only!
Be prepared for sports injuries
Summer sports often result in broken or chipped teeth, cut lips and fractured tooth roots. Help prevent such injuries in sports such as soccer by encouraging your children to put on a mouthguard.
Philadelphia's Best Dentist
If you have questions about your family's oral health, our team at Advanced Dental Smiles is always here to help. Call us on (215) 672-9444 or click here to book your appointment at Philadelphia's Best Dentist.