Cosmetic Dentistry Vs General Dentistry
One of the most common questions received from the patients is the difference between general and cosmetic dentistry. It is essential that the patients understand the difference between both specialties. both offer numerous different options for good dental health.
What is General Dentistry?
General dental specialists are the primary dental health care providers for people of all ages. They are not centered around a specific part of dental practices and offer a wide range of services.
General Dentistry incorporates techniques like tooth extraction, root trenches, and pit filling. By these techniques, you can resolve the issues related to oral cleanliness, dental torment, and uneasiness.
These services mentioned below are important for both dental and physical health:
Preventive services- It is a mixture of regular dental check-ups and being habituated to brushing and flossing.
Restorative services-This procedure completely focuses on the treatment of the supporting structures of teeth.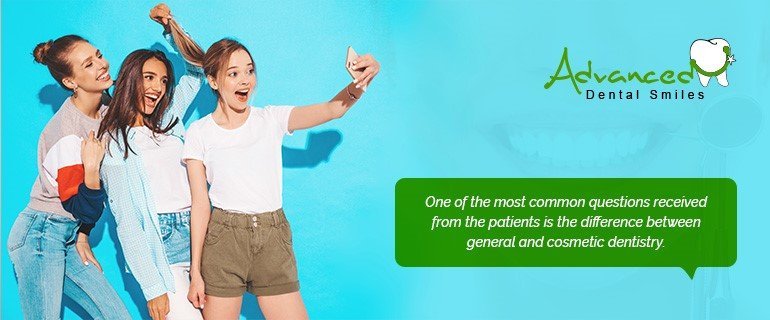 What is Cosmetic Dentistry?
Cosmetic Dentistry concentrates on addressing dental aesthetics. It focuses on the maintenance of worn, stained, broken, chipped, distorted, and stained teeth, just as dental gaps.
Cosmetic Dentistry is a smile makeover, as all the dental methodologies concentrate on giving you a bright smile. The following are the dental procedures followed by cosmetic dentists.
Teeth whitening– This process is also known as tooth bleaching which helps in lightening the color of the teeth.
Dental veneers-It is a layer of material which is placed over the teeth which helps in improving the smile and also protects the teeth from damage.
Dental bonding-This procedure helps in bonding of the natural substance of the tooth, enamel and dentin
Dental crowns- This procedure is mainly used when there is a large cavity in the teeth.
Inlays and onlays -It is a type of indirect restoration, which means a solid piece is fixed in the space of the cavity.
Dental implants– It acts like a surgical component and interfaces with the bone of the jaw or a skull to support crown, bridge, denture etc.
Dental bridges– This is type of dental restoration which is used to replace the missing teeth by joining the artificial teeth.
Differences Between General Dentistry and Cosmetic Dentistry
The General Dentist and the Cosmetic Dentist are equally trained to perform all the basic procedures such as X-rays, teeth cleaning, etc. The actual difference between these two fields is that if there is a problem with the way the teeth look or if someone is worried about the appearance of the teeth, then visiting a cosmetic dentist will provide them a high-quality aesthetic result. Where general dentistry concentrates on the basic dental needs of the person